Did Menk's campaign violate electoral law?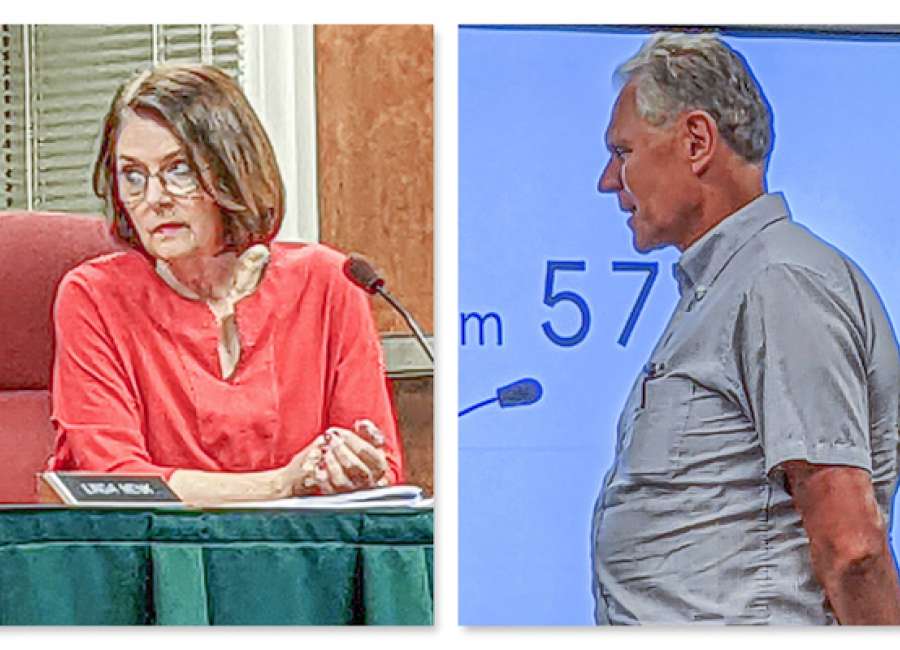 As many as 500 employees of the Coweta County school system received campaign emails from Linda Menk at their work address in the week leading up to Tuesday's election runoff.
Teachers, administrators and paraprofessionals at Canongate, Thomas Crossroads and White Oak Elementary Schools, Arnall and Blake Bass Middle Schools and Northgate High School — all schools in District 4 — received the emails.
Some recipients lashed out at the mailing, saying Menk was trying to commit voter fraud by using access to government employees' work emails for political purposes.
The work emails of employees who said they received correspondence from Menk are publicly listed, primarily to make it easier for parents and guardians to access, according to school officials. Emails sent on Menk's behalf were about politics, not education, protesters say, and state employees are expressly prohibited from using their work time or resources – including email accounts – to support or oppose political candidates in Georgia.
Menk currently holds the District 4 seat on the nonpartisan school board, but narrowly lost the May 24 popular vote to challenger Rob DuBose. However, DuBose failed to reach Georgia's threshold of more than 50% of the vote, forcing a runoff.
The first batch of emails appeared in Canongate employee inboxes on Wednesday afternoon. The emails were forwarded by Pray Coweta's manager, Paul Schneider Jr. – using the email [email protected] – who topped the correspondence with each recipient's name and wrote "I send you this from Linda Menk".
Signature "Linda Menk – Coweta County Board of Education – District 4 Representative" and linked to both email [email protected] and www.vote4menk website, and the emails contained the greeting "Dear Canongate Elementary Staff Members".
Similar emails were sent early Sunday to employees' school accounts at Arnall, White Oak and Blake Bass, and Sunday evening to employees at Northgate.
It was a stark shift in campaign focus for Menk, who seemed largely indifferent to the demographics of Coweta school workers until last week. Her initial campaign was fully backed by a national political action committee whose stated goal is to "take charge" of local school boards, and she is a well-researched and unapologetic advocate of school choice.
Menk was one of four candidates on the PAC-funded slate, including three challengers who were soundly beaten on May 24.
Mailers containing the names and images of the four PAC-backed candidates claimed that local public schools were forcing critical race theory and transgender studies into classrooms, distributing anti-Second Amendment and anti-Swearing materials. allegiance, and even provided students with pornography – allegations that enraged school officials, educators and Coweta residents, who insisted the claims were demonstrably false.
Menk's campaign emails to District 4 schools staff had a markedly different tone.
"I would like to set the record straight regarding misinformation that may have been shared with you as staff members of our public schools," she wrote to employees, continuing to make several questionable statements about her service and commitment. towards them during his two years. mandates to the board before "humbly asking" for their vote.
Menk wrote that "teachers, parapros (sic) and other staff" came to see her alleging that "upper-level management" was using bullying tactics to discourage school employees from vote for her – another in a long line of serious accusations Menk has made against the school system's leadership over the years.
After being briefed on the initial letter to Canongate staff, Superintendent Evan Horton contacted Menk in an email which also copied board chairman Beth Barnett and board attorney Nathan Lee.
"This allegation is of great concern to me and must be fully investigated immediately," Horton wrote. "Please provide me with all the evidence you have that supports these allegations as soon as possible."
Menk did not respond and Horton reached out again after the same allegations were made in emails to employees at several other schools on Sunday afternoon.
"It concerns me that these allegations were presented to you and have now been brought to the attention of staff at Canongate, White Oak and Arnall before reporting them to me," Horton said, this time in an email on which Barnett, Lee and the rest of the board members were copied.
Menk still hadn't responded to Horton on Monday evening.
Speaking directly to teachers and school administration to whom the emails were directed, Menk made a plethora of claims about her two terms on the board, including that she has "100%" and "always" supported all employee pay increases, advocated for improvements to the teachers' pension plan, had meetings with "many" employees in various roles, and created a proposal to provide school supplies to teachers who was "immediately rejected".
These claims are in stark contrast to claims by school system employees that Menk rarely, if ever, visits classrooms or makes appearances at special events at schools in his district. And records of public meetings that show she never voted for just one annual budget — not even ones that included employee pay raises.
The NTH could find no record of a Menk offer to provide school supplies, and the first time she participated in a discussion of the state-administered teachers' pension system appears to have been during the meeting of June 14, 2022.
Yet in her emails, she pledged to continue putting employees first.
"The same efforts that I bring to parents and children, I also provide to our staff," she wrote. "You have my 100% guarantee that I will always be available to support, listen, respond and respect you."
His promises have only served to fuel outrage and confusion among the many Coweta Schools employees who continue to resent the accusations leveled at them in the weeks leading up to the May 24 primary, in which some supporters of Menk grew increasingly dismissive of the board, schools and employees — especially on social media and in public comments at board meetings.
"A few weeks ago my whole profession here in Coweta was accused of 'treating and indoctrinating children', but now the email (from Menk) tells me she will… 'will always support me' and 'will always respect me,'" said a longtime teacher who asked to remain unnamed for this story. "Does this mean that she supports and respects us for preparing and indoctrinating children? Or is she now admitting that her previous letters were filled with lies and that none of these things ever happened? »
DuBose said Menk's eleventh-hour antics — which in 2018 included a slew of accusations of wrongdoing against fellow board members over a multimillion-dollar sports stadium renovation and the installation of artificial turf – are branded for the beleaguered incumbent.
"This tactic isn't new to her," DuBose said. "Over the past eight years, I feel that Ms. Menk has created controversy and failed to support the District 4 community. I have heard many teachers and administrators say they are fed up with her lack of support and its false accusations. She's out of touch with what's really going on in our schools, and it's time for a change.
•••
Editor's Note: Anyone suspecting voter intimidation or illegal election activity is urged to call the Georgia Attorney General's Office of the Attorney General's Voter Fraud Complaint Hotline at 888-532-0148 or to visit this page to complete an online report.