FWIW Virginia: The Main Preview Edition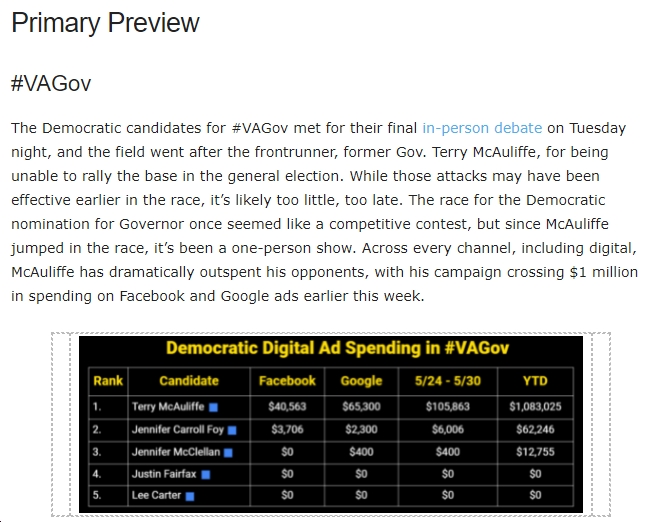 Welcome to FWIW Virginia, where we analyze digital spending trends on both sides of the aisle in the 2021 Virginia legislative and legislative elections. Each week, we take a look at how campaigns are investing in digital engagement and the online tactics they use to reach Commonwealth voters. Has this email been forwarded to you? Click here to subscribe.
The Democratic primary is just 5 days away and Commonwealth candidates are scrambling to win every final vote. While the gubernatorial primary seems largely settled, the race for lieutenant governor is still wide open, and Del's main challenge. Jay Jones to outgoing Attorney General Mark Herring still looks viable.
Can anyone reduce McAuliffe's lead in #VAGov? Who will burst into #VALG? And will Jones be able to cause a shocking upheaval against a longtime elected official? We're taking a look at this week's main preview special edition of #FWIWVA.
But first…
2021 in figures
After the Democratic primaries end next week, we'll be rolling out cumulative and weekly digital spending data in competitive elections for the House of Delegates and statewide offices. In the meantime, we'll be sharing data on top Commonwealth spenders and statewide Democratic primaries.
FWIW, here are the 10 biggest consumers on Facebook in Virginia this week:
Notably, Terry McAuliffe and Mark Herring were the top spenders in Virginia on targeted spending on Facebook this week, giving them an edge when it comes to reaching voters ahead of their respective primaries on Tuesday.
Another notable advertiser is Power for Tomorrow, which was the 8th largest consumer on Facebook in Virginia this week. The organization is relatively new, with its page being created on March 17 and showing its first announcements in mid-April. Although it advertises itself as a national organization on its website, the organization has run Facebook ads targeting Virginia exclusively. Additionally, their ads have explicitly attacked the progressive environmental group Clean Virginia, which advocates for greater regulation of the energy monopoly Dominion Energy (which is also the largest political donor in Virginia). The group seems to be draped in progressive language, but it looks suspiciously like a vehicle for Dominion to repair its reputation among progressive Virginians.
Speaking of Clean Virginia, the group has actively spent on social media ads on behalf of their approved candidates statewide. Specifically, the group is targeting young voters on Snapchat to support Del. Jennifer Carroll Foy for Governor and Del. Jay Jones for the Attorney General.
Main preview
#VAGov
The Democratic candidates for #VAGov met for their final in-person debate on Tuesday night, and the peloton pursued front-runner former Gov. Terry McAuliffe for failing to rally the base in the general election. While these attacks may have been effective earlier in the race, it's probably too little, too late. The Democratic nomination for governor once seemed like a competitive contest, but since McAuliffe entered the race, it has been a one-person spectacle. Across all channels, including digital, McAuliffe spent heavily on opponents, with his campaign exceeding $ 1 million in spend on Facebook and Google ads earlier this week.
The main alternatives to McAuliffe, Del. Carroll Foy and Sen. McClellan each raised $ 4.7 million and $ 2.7 million, respectively, until May 27, but were unable to match the $ 12.8 million of McAuliffe for this cycle. McAuliffe benefited greatly from a split field, with leading alternatives, Del. Jennifer Carroll Foy and Sen. Jennifer McClellan sharing resources and votes in their offers to fight the nomination of the well-known former governor. Even with the race looking very difficult, the Carroll Foy and McClellan campaigns continue to organize and cross the finish line, hosting GOTV prospecting events across the Commonwealth.
Meanwhile, Lieutenant Governor Justin Fairfax polled in 2nd place with 8% of the primary vote in the last public poll of the race in mid-April, but raised just over $ 300,000 – his card d he identity and demonstrated support allows him to finish 2nd or 3rd, but credible accusations of aggression and lack of resources make his path to victory unviable. To complete the field, socialist Del. Lee Carter, who has hardly raised any money to present himself to voters outside of his district and his Twitter account – he's to the left of the Democratic voters in Virginia as is, and the utter lack of resources means that he'll be lucky to break simple low to medium numbers on election night.
#VALG
As we covered in last week's edition, the race for lieutenant governor is the most open of three statewide contests – Del. Sam Rasoul has been the favorite all along, but Del. Hala Ayala got approval from Gov. Ralph Northam and speaker Eileen Filler-Corn. In a race for the raffle that takes a back seat to the race for governor, being able to raise funds and spend them effectively to strengthen name identification is the name of the game, and the advertisements digital media are one of the best ways for applicants to get their name. in front of the voters at least.
Throughout the campaign, Del. Sam Rasoul has invested in digital early and often, spending more than 3 times as much on Facebook and Google ads as the rest of the field combined. While this reflects the campaign's priorities, it also reflects the lack of resources between campaigns, with Rasoul leading the pack with $ 1.8 million raised as of May 27. With the clock running out, campaigns started running out of money to reach voters late in the game, which led to… interesting campaign fundraising decisions.
This race is really still wide open, the campaign of Del. Sam Rasoul apparently doing everything right, but the strange influx of late-in-race money from business and personal contributions could lead to unpredictable upheaval in a race with almost no public polling. Barring much bigger surprises on Tuesday, this should be a race to watch.
Attorney General
The final race on the statewide ballot is for the Attorney General, where Del. Jay Jones runs a tough main challenge against AG Mark Herring, who is running for a third term. Name identification and the incumbent advantage favor Herring, as the latest public poll from the mid-April race showed Herring leading Jones 42-18% with 39% undecided.
Over the past few weeks, Herring has dramatically ramped up its digital operation, overtaking Jones in the past two weeks, mostly spending persuasive ads to reintroduce himself into the Democratic electorate. Jones, on the other hand, has been more consistent, investing in digital persuasion earlier as he had the challenge of presenting himself to a statewide electorate for the first time and setting contrasts with Herring.
Jones later reallocates some of his digital spending from Facebook to Google as his campaign continues to run 15- and 30-second YouTube ads focused on racial justice and criminal justice reform, serving as both a bright spot. and implicit contrast to Herring's tenure. like AG.
Herring's late digital push appears to be focused on combating Jones' attacks, reintroducing himself to voters as a successful GAs with many incremental accomplishments and touting his endorsement by the Washington Post, which usually carries heavy weight with of Northern Virginia Democratic primary voters.
Interestingly, Herring widened his financial gap with Jones, with Herring raising a total of $ 3.1 million compared to Jones's $ 1.95 million as of May 27 – most of that gap came from contributions from the Democratic Attorneys General Association, bringing in over $ 800,000 to Herring in the most recent filing period. While Herring's financial advantage still complicates a difficult path to victory for Jones, this is far from the type of financial advantage that an incumbent could typically use to bury a main challenger – Herring is always favored, but its renomination is far from guaranteed.
Thanks for reading this week's FWIW Virginia! We are delighted to be back after these crucial Commonwealth elections. If you enjoy reading this type of content every week, we hope you will support our work by clicking share and tweeting this newsletter below! As always, email us with ideas of what you'd like us to explore next.
You can also sign up to receive our national newsletter, FWIW, here.