Indonesia must push for renewable energy pivot with coal backers Japan and China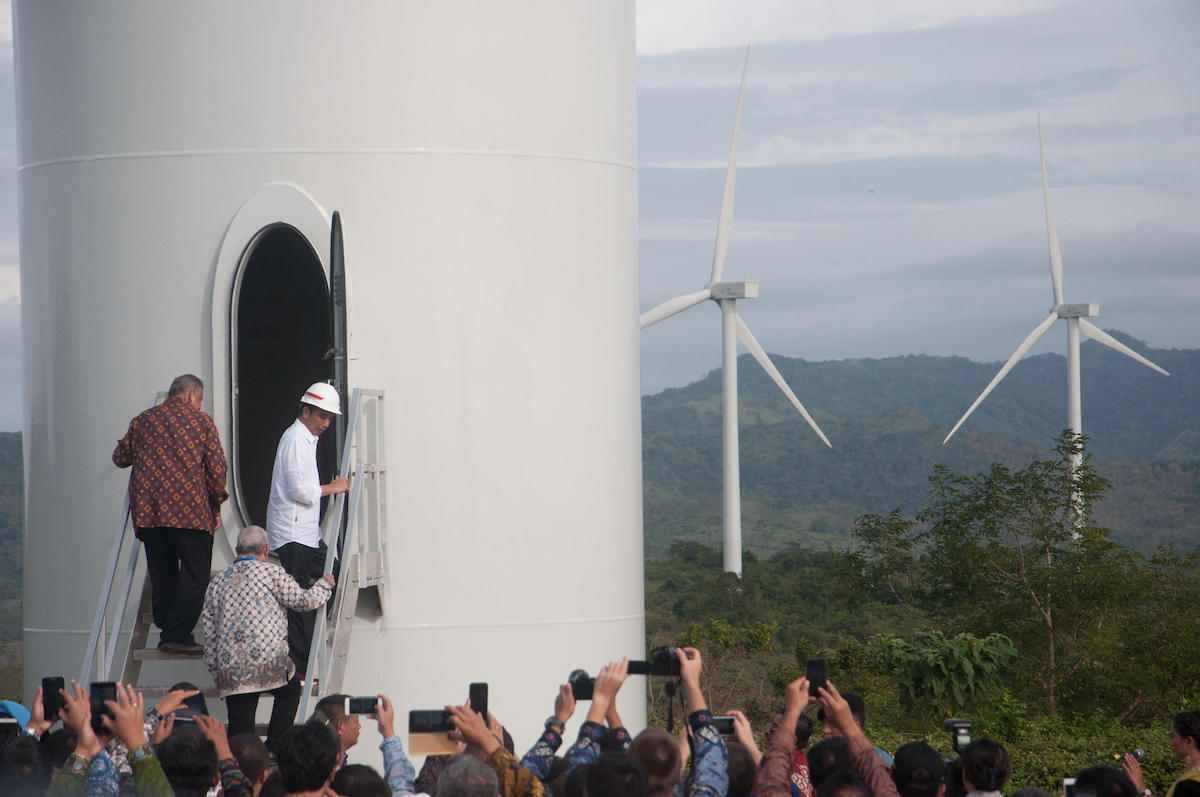 Since coming to power in October 2014, President Joko "Jokowi" Widodo has sought to refurbish Indonesia's derelict infrastructure, including energy supply. His administration postponed a previous government target, set in early 2014, of getting 23% of the country's primary energy needs from renewable sources by 2025, targeting geothermal, wind, bioenergy, solar, hydroelectric and ocean energy. kinetic and thermal. in its national energy plan.
These infrastructure efforts are limited by legislative restrictions on the size of the country's budget deficit, which must be kept below 3% of GDP. This limits the mobilization of Indonesian public companies and pushes Jokowi to find partners for infrastructure financing from the private sector and from abroad. An important step the country has taken to transform its energy portfolio is to increasingly welcome the participation of foreign companies.
Indonesia's main international infrastructure partners are Australia, China and Japan, of which China could increasingly be the most attractive, given the proficiency and sophistication of its companies in renewable energy technologies, such as solar and wind power. Some of these companies benefit from the financial support of Chinese strategic banks – the China Development Bank (CDB) and the China Export-Import Bank (Chexim) – to secure projects in Indonesia. The general arrangement is for these banks to provide loans, while Chinese companies offer technical expertise in the form of engineering, procurement and construction contractors.
Recommended
President Jokowi has also sought to forge economic ties with China more easily than his predecessor, Susilo Bambang Yudhoyono (2004-2014). His administration's efforts have included the establishment of a special office dedicated to attracting Chinese investors, set up in May 2016 by the Investment Coordination Board (BKPM) – a body that has more actively conducted investment promotion activities in China, in partnership with Chinese banks and professional associations.
However, Jokowi's overtures to China have drawn a backlash from Indonesia's traditional economic players, such as Japan. Indeed, after China announced the Belt and Road Initiative (BRI) in 2013, Tokyo launched the Partnership for Quality Infrastructure (PQI) in 2015, apparently offering an alternative to the BRI with a focus on quality, openness and transparency of its projects. . Japan's infrastructure exports to Indonesia are facilitated mainly by the Japan Bank for International Cooperation (JBIC) and, to a lesser extent, by the Japan International Cooperation Agency (JICA), its development agency at the foreign. Their financial prowess improves the bankability of projects, especially those with long gestation periods and huge capital outlays, at least initially. One of the most striking examples is the 1,900 MW Batang PLTU in Central Java province, the largest Japanese-funded coal-fired power plant in the Southeast Asian country to date.
US$4.8 billion
Total investment in Indonesia by Chinese companies in 2020
At first glance, such competition between regional powers may appear to have provided Indonesia with a golden opportunity to secure favorable terms to advance key projects. The theory, it seems, is that this allows Indonesia to pit one side against the other, causing competition that offers options such as generous financing terms and advanced engineering know-how, which would otherwise be unavailable under normal circumstances. But, as a recent analysis I contributed to for the journal Asian Perspective shows, the consequences are not all positive.
It is true that Indonesia has benefited from both Chinese and Japanese financial resources to provide energy to isolated communities. A 2019 study covering the investment landscape in Indonesia reveals that, despite being only the tenth largest investor in Indonesia in 2008, China had become the third largest investor in 2016. In 2020, Chinese companies invested a total of US$4.8 billion. in Indonesia, second only to Singaporean companies ($9.8 billion). Japanese companies came fourth, with a total investment of $2.6 billion. Yet Japan has for decades ranked among the most important investors in Indonesia.
Recommended
In terms of energy infrastructure, funding for non-renewables has grown faster than for renewables. The dataset used in my analysis shows that up to 86% of funding from China, led primarily by CDB and Chexim, was channeled to coal-fired power plants. Moreover, compared to the Yudhoyono era, there seems to be a greater willingness on the part of the Jokowi administration to mobilize creative investment and to combine foreign direct investment with funding from Chinese political banks. More flexible financing models increase the bankability of these projects, offering a more acceptable risk-return trade-off to potential lenders and/or investors.
The situation is a little more optimistic in the case of Japan: only 56% of Japanese energy projects have gone towards non-renewable energy infrastructure, led by coal-fired power plants. Although this apparently puts Japanese financiers in a more favorable light, it should be noted that the grand total of Japanese energy projects (18) is lower than that of China (28), which means that a small bias effect of 'sample could be in play. The larger point is that the ready availability of Chinese and Japanese funding, particularly to push coal power, has not only complicated Indonesia's adoption of renewable energy, but has also compromise its environmental well-being.
Local companies representing entrenched interests channel foreign-owned capital and technology into non-renewable energy
Why then has coal received the lion's share of energy funding from China and Japan? On the one hand, there is Jakarta's desire to promote infrastructure through more market-based instruments, as it tries to keep the budget deficit below 3% of GDP. Although the budget cap was removed for three years from 2020 to help Indonesia cope with the fallout from the Covid-19 pandemic, the overall impact is quite clear: it had the unexpected effect of expanding opportunities for Chinese and Japanese non-renewable energies. actors, and their financiers, to establish collaborative links with large Indonesian private companies. Many of these Indonesian companies have experience in coal mining and processing, but have little exposure to running power plants. By forming coalitions with Chinese and Japanese non-renewable energy companies, Indonesian companies have widened their niche in energy operations, while securing a ready-made market for their coal supplies.
In other words, these local companies represent entrenched interests that channel foreign-funded capital and technology into non-renewable energy infrastructure. Perhaps more worryingly, the country's mining industry – of which coal is a central component – reportedly funded the political campaigns of prominent Indonesian politicians in the country's 2019 general elections.
What are the implications for the development of renewable energies? First, there is a need to better understand the national political economy, including pre-existing and even historical practices in the energy infrastructure sector. Policy and business decisions do not operate in a vacuum: a more informed view helps policymakers and analysts understand how local business groups are likely to forge links with foreign financiers. A better understanding can enable them to work towards building policies or incentives that prevent these links from forming, while redirecting resources towards partnership with renewable actors.
Recommended
Finally, it is important to promote greater transparency of infrastructure companies. One possible avenue is to pressure the Indonesian government and business groups, as well as their international financiers, to be more transparent in releasing information to the public, especially about their financing and their environmental impacts. A more transparent framework would in turn encourage all of these parties to up their game in terms of stakeholder engagement and environmental management.
To this end, a more coordinated and persistent effort, involving local and international interest groups, such as NGOs, should be considered. With China's announcement last September that it would end its support for new coal-fired power plants overseas and Japan's signals of a slow – if not steady – move away from coal funding, now is the time. come for these movements to harmonize and make the situation in Indonesia urgent. move towards renewable energies.
Guanie Lim is Assistant Professor at the National Graduate Institute for Policy Studies (GRIPS), Japan. His main research interests are comparative political economy, value chain analysis and the Belt and Road initiative in Southeast Asia.