Mike Lindell vows to show "100%, non-subjective evidence" of voter fraud in August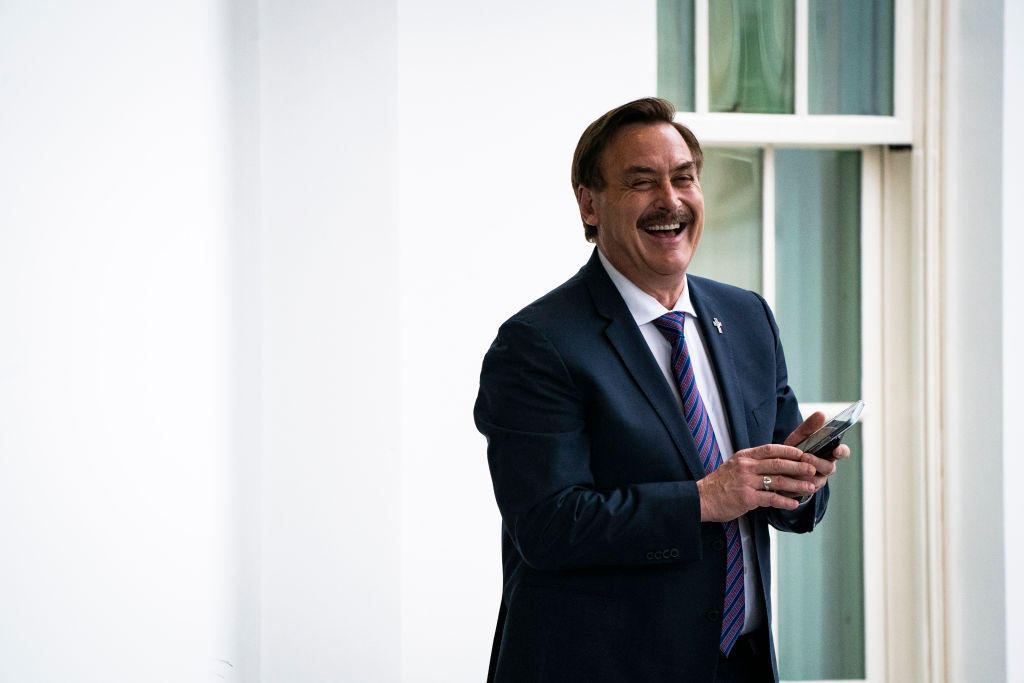 MyPillow CEO Mike Lindell continued to promote baseless conspiracy theories about the 2020 election, promising to reveal in August "100% non-subjective evidence" that the election was "rigged" against President Donald Trump.
Lindell, a megamillionaire and stalwart of Trump, made the remarks ahead of a hearing in a Washington court where he and pro-Trump attorneys Sidney Powell and Rudy Giuliani face a libel lawsuit from Dominion Voting Systems because of their misrepresentation of the companies alleged involvement in the "theft" of President Joe Biden's election. These extraordinary claims have already been carefully pleaded and fully debunked.
"Our country has been attacked by China. The elections have been hacked and we are going to organize a cyber-symposium," Lindell promised at a press conference in a federal court in Washington.
The CEO of MyPillow said his "cyber experts" would show "packet captures" which are "100 percent non-subjective evidence".
"And we have all the packet captures for the entire election," he said.
Lindell said the August event will bring together cyber experts, politicians and the media. The pro-Trump businessman argued that after the symposium, the Supreme Court will unanimously decide to reject the election results, which legal analysts have already pointed out is not possible.
"It's going to be 9-0. They're going to bring down this election and yes, Donald Trump will be your president. He's your president now," Lindell insisted. He then attacked Dominion on several occasions in his remarks, despite the libel lawsuit against him, which he had come to attend. "These criminals, they used that and committed one of the greatest crimes against humanity, were part of it, in history," said the Dominion businessman.
Dominion filed a $ 1.3 billion libel lawsuit against Lindell in February. The voting systems company also filed a lawsuit against Powell and Giuliani, who led the charge in filing a baseless election challenge lawsuit on Trump's behalf. Giuliani's legal license in New York was suspended this week, after a state court determined he had repeatedly made false and inaccurate statements about the 2020 election.
Dozens of election lawsuits filed by Trump and his supporters have failed in state and federal courts. Even judges appointed by the former president and other Republicans have dismissed the often bizarre allegations. Audits and recounts in key battlefield states, including areas where the election was overseen by pro-Trump Republicans, reaffirmed Biden's victory.
Former US attorney general William Barr, who was widely regarded as one of Trump's most loyal cabinet members, said in December that there was "no evidence" to support the claims of widespread fraud. Additionally, the Department of Homeland Security's Cybersecurity and Infrastructure Security Agency described the 2020 election as "the safest in American history." The federal agency, which was headed by a person appointed by Trump at the time, claimed there was "no evidence that a voting system suppressed or lost votes, altered votes or was compromised in any way ".
Either way, Trump, Lindell, Powell, Giuliani and other prominent Conservatives continue to claim that the 2020 election was fraudulent. These baseless claims also seem to have resonated with Republican voters. Polls have shown that many believe Biden is not the rightful president. The results of an Ipsos / Reuters survey in May showed that 53% of GOP voters believe Trump is the "real president," while 56% believe the election was marred by fraudulent votes.
News week contacted Dominion Voting Systems for comment.